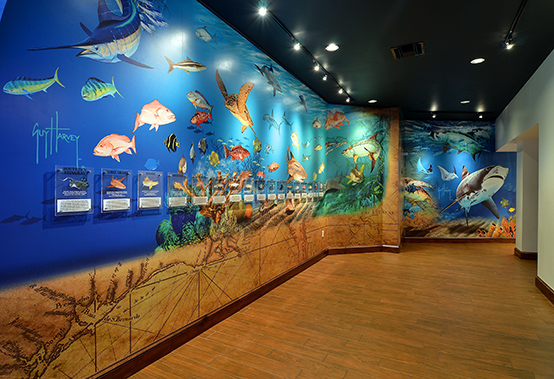 Education Wall & Mural
If you're interested in learning about all the marine life living in our tanks, visit the educational wall. The wall, complete with a hand painted sea life mural by Guy Harvey himself, is lined with plaques offering information about many of our fish, so you can identify the tank inhabitants.

The massive 33,500 gallon tank features over 30 species of fish indigenous to Tampa Bay and the Gulf of Mexico including snook, grouper, tarpon, southern stingrays, sharks and even a green moray eel. The juvenile tank includes many of these same species along with a number of colorful coral reef inhabitants. The tank in the Bar features lionfish, and a number of other predators.

A behind-the-scenes tour of the operation, and educational session on the animals and conservation, is also available with the "Swim with the Fishes" program.

Learn more about "Swim with the Fishes".