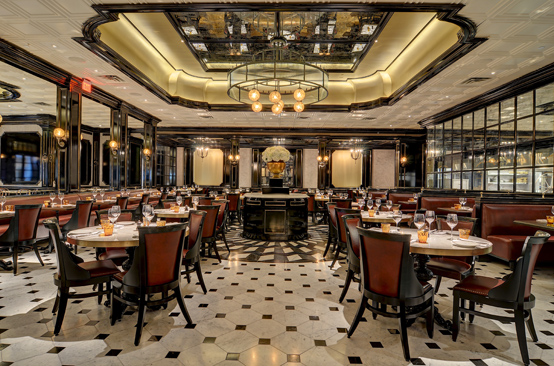 Bardot Brasserie
DINNER DAILY, 5:00 p.m. – 10:30 p.m.
HAPPY HOUR DAILY, 5:00 p.m. – 7:00 p.m.
BRUNCH SATURDAY & SUNDAY, 10:00 a.m – 2:30 p.m.

Looking to add a little je ne sais quoi to your evening? Look no further than Michael Mina's Bardot Brasserie, an intriguingly delicious place to sip a cocktail and indulge in French cuisine with a modern twist.

Cozy up to the bar and let one of our mixologists transport you to the streets of Paris with a French-inspired cocktail like The Ritz. Fancy yourself a wine connoisseur? You'll feel at home with an array of New World and Old World wines from the regions of Alsace, Burgundy, Bordeaux and the Rhone and Loire Valley. Culinary highlights include mussels mariniéres, roasted chicken, foie gras, steak frites and all your French favorites.

Inspired by early film noir, Bardot's mix of low lighting and dramatic shadows sets the mood for a little bit of playful trouble. Sure, you may be dining in Vegas. But you never know where a dinner or brunch at Bardot will take you.

Dinner Menu
Brunch Menu
Dessert Menu
Large Groups
Cocktail Menu
Happy Hour